AUSTRALIAN CHAMPION NIGHTKING BREAKIN HEARTZ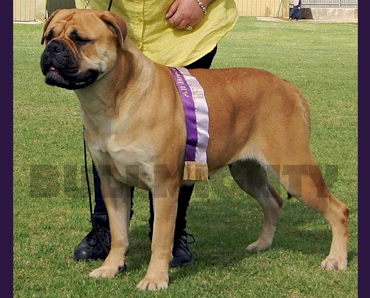 Paige has joined us here at Bullmighty Kennels in what is a case of history repeating itself. She was no longer able to stay in her previous home, just like her dad Kane before her, and has come "home" to stay.
Paige oozes breed type and has the soundness to match. Hips R04/L02=06, 6 grade 2 and 0 /0 elbows.
She is a very active, people loving girl. We are looking forward to see what Paige, who is so like her Great Granny, our lovely Freda (RUBISS CH Bullmighty XTC), who she is heavily line bred to, will bring to our kennel.
AUST. CH NIGHTKING BREAKIN HEARTZ

Parents
GrandParents
Great GrandParents
Aust. CH Soloshel Midnite Nitros

Soloshel Midnite Erwin


Aust. CH

Kennilcrest Honky Tonk
Soloshel Midnite Gypsy
Bullmighty Ima Badboyztoy

Aust

. CH

Soloshel Mr Bad Guy

Aust. CH

Bullmighty Behold XTC

Nightking ABlakEyedBlond

Aust. CH Bullmighty INXS

Aust. CH Soloshel Mr Bad Guy

Aust. CH

Bullmighty Behold XTC
Bullmighty Maid N Ice


Gamekeeper Entrapment

Aust. CH Nightking Final Fling