AUSTRALIAN CHAMPION MANUDOG HENRIETTA LANG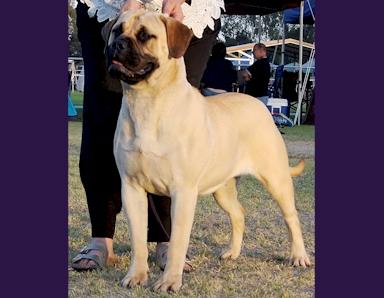 Hetti is a substantial, but still feminine, puppy with wonderful pigment, lovely head piece and clear fawn coat. She has correct front, good angulation front and rear and she has been well placed at the the shows she has attended to date. She is a fun loving exuberant girl who is from Manudog's first litter by our lovely home bred boy, Jethro. We are looking forward to watching her grow.
Henrietta is the Rising Star Point Score Winning Bullmastiff for South Australia.
AUSTRALIAN CHAMPION MANUDOG HENRIETTA LANG

Parents
GrandParents
Great GrandParents
Aust. CH Bullmighty Vibeology
Aust. CH Bullmighty INXS


Aust. CH

Soloshel Mr Bad Guy

Aust. CH Bullmighty

Behold XTC
Bullpower Princess Gemma
Aust. CH Soloshel Roccabilly
Bullpower Fairy Tale
Opalguard Silver Bells

SUP. CH Bullsrkool Gift From Above

Gamekeeper's Make My Day

Bullsrkool Shesso Smooth

Aust. CH Opalguard Rumour Has It

Brinkybull Saxon
Opalguard Hesper