AUSTRALIAN CHAMPION KANGALA JOHANNNO OLDWELL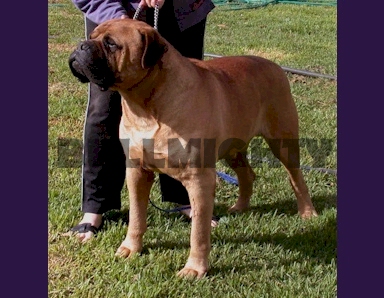 Jim was a sound, breed typical, gentle soul who was an absolute pleasure to own. We thank Kangala Kennels for the years of joy this big gentle boy gave us.
Jim features in all the pedigrees of our current dogs; his wonderful legacy living on.
AUSTRALIAN CHAMPION KANGALA JOHANNO OLDWELL

Parents
GrandParents
Great GrandParents
Aust. CH Kangala Yohan


Aust. CH Oldwell Laird (Imp. UK)



Eng. CH Wyburn Rula Of Oldwell
Sylva Of Oldwell
Aust. CH Soloshel Da Javou

Aust

. CH Vanetta Major
Bullplains Lady Tigre
Aust. CH Opalguard Ayesha


Aust

. CH Morvern Eachan (Imp. UK)


Bronson Of Bunsoro At Todomas

Morvern Dulcie

Aust. CH Bobby Dazzler Of Graecia (Imp. UK)


Eng. CH Saturn Of Graecia

Beltarn Elfin Storm