AUSTRALIAN CHAMPION BULLMIGHTY X OFFENDER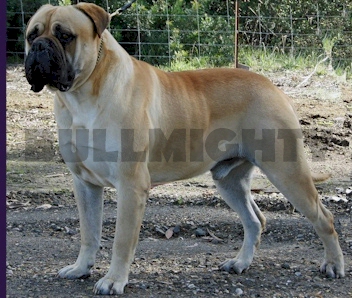 Robson is one of two puppies from our lovely home bred bitch, Aust. CH Bullmighty Pussy Galore.
Robson has the very best of all our dogs throughout his pedigree. He is a lovely substantial boy, with the same super head piece in type as his mum. Robson's sire also stamped his type on this breeding; he has his dad's wonderful forechest, well let down, and broad throughout.
Hip and elbow scored, a best of breed winner and multi class in group winner, Robson gained his points for his Australian Champion title by 14 months of age.
Hips L02/R02=04, Grade 1. Elbows 0/1.
AUSTRALIAN CHAMPION BULLMIGHTY X OFFENDER

Parents
GrandParents
Great GrandParents
Aust. CH Gameguard Toma Hawk


Aust. CH

Graecia Pryderi (Imp. UK)

Aust. CH

Graecia Pryderi (Imp. UK)

Bulcharmer Gem

Gameguard Penchant

Aust. CH

Grand CH Oldworld Sampson

Bullenca Silver Clover From Graecia (Imp. UK)

Aust. CH Bullmighty Pussy Galore

Bullmighty Gone Troppo


Aust. CH

Bullmighty Even BetrnSex

Aust. CH Bullmighty

Behold XTC
Aust. CH Bullmighty Maid In XS

Gamekeeper Entrapment
Aust. CH Nightking Final Fling