AUSTRALIAN CHAMPION BULLMIGHTY TALK DIRTY TO ME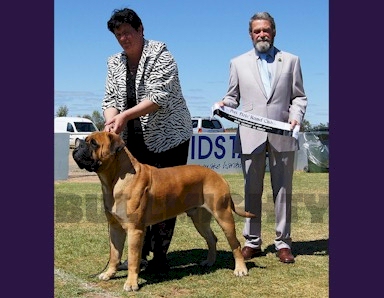 Gollom is a lovely substantial boy with a wonderful head, great pigmentation and excellent boning. With five generations of Bullmighty breeding in his pedigree, and having survived a brown snake bite, Gollum returned to the ring in late 2012, winning numerous best of breeds, multi class in groups and finishing his tile in style with a best of group win.
Hips right 2, left 1, Australian grade 1, international grade B. Elbows left 0, right 0. Heart certified clear by ultrasound.
BULLMIGHTY TALK DIRTY TO ME

Parents
GrandParents
Great GrandParents
Aust. CH Bullmighty Kiss This


Aust. CH

Nightking The Last Stand


Aust

. CH Kangala Johanno Oldwell
Kervilees Ivory Queen

Aust. CH Bullmighty

Behold XTC

Aust

. CH Kangala Johanno Oldwell
Bullmighty Freda O Mason
Aust. CH Akylah Return To Genre (Imp. NZ)

NZ CH

Bullmighty Haplo (Imp. Aust.), CGC




Bullmighty Barnaby

Aust. CH Bullmighty Flamn Groovy

NZ CH Akylah Lallante


Soloshel Midnite Thunder (Imp. Aust.)

Bullmighty Hajaana (Imp. Aust.), CGC Silver