AUSTRALIAN CHAMPION BULLMIGHTY PUSSY GALORE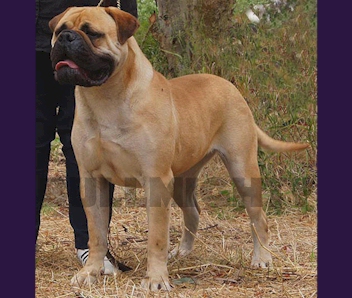 Marilyn is one of nine puppies from our lovely home bred bitch Aus CH Bullmighty Maid INXS.
Marilyn has the very best of all our dogs through out her pedigree, a substantial, but still feminine, puppy with attitude to burn.
She has the same lovely head type as her grandmother Aust. CH Bullmighty Behold XTC.
Marilyn's sire and dam are both DNA certified.
Marilyn is the 2008 Bullmastiff Club of South Australia's first equal (with Bullmighty Oh O Saint Or Sinna) Puppy Of The Year winner, and is already a CC winner and on the way to her title.
We look forward to her future.
AUSTRALIAN CHAMPION BULLMIGHTY PUSSY GALORE

Parents
GrandParents
Great GrandParents
Bullmighty Gone Troppo


Aust. CH

Bullmighty Even BetrnSex


Bullmighty Barnaby

Aust. CH Bulltusker Bella Donna

Aust. CH Bullmighty

Behold XTC
Aust. CH Kangala Johanno Oldwell
Bullmighty Freda O Mason
Aust. CH Bullmighty Maid In XS

Gamekeeper Entrapment


Aust. CH Forestguard Hannibal

Aust. CH Bullmighty

Behold XTC
Aust. CH Nightking Final Fling

Aust. CH Kangala Johanno Oldwell

Kervilees Ivory Queen