BULLMIGHTY OH O SAINT OR SINNA (AI)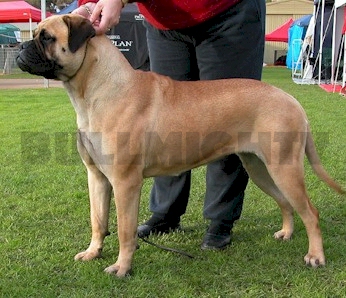 Christine is the result of a very special breeding. She has wonderful size and substance, excellent pigmentation and correct angulation front and rear. With personality to burn she is a puppy who shows a lot of promise.
Christine is a Class In Group and CC winner, on the way to her championship title, and first equal winner of the Bullmastiff Club Of South Australia Puppy Of The Year point score competition with Bullmighty Pussy Galore.
BULLMIGHTY OH O SAINT OR SINNER

Parents
GrandParents
Great GrandParents
Intl. CH Junior Off The Keepers Nightdog

Intl. CH Torneto Vom Frankental

Lux., NL., Hon., Íst., Fr. CH Hurricane Vom Frankental
CH Ladyface Vom Frankental

Wonder Girl Vom Frankental

CH Hurry Vom Frankental
Jobull's Modern Millie
Bullmighty IndecntObsesin


Aust. CH

Soloshel Mr Bad Guy


Aust. & Indian CH

Gameguard Arion IID

Soloshel Vanilla Ice

Aust. CH Bullmighty Behold XTC




Aust. CH Kangala Johanno Oldwell

Bullmighty Freda O Mason