AUSTRALIAN CHAMPION BULLMIGHTY NOPLCFRANGELS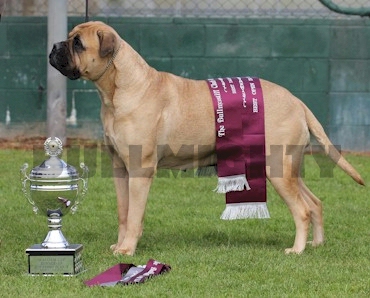 Kelly is still enjoying success in the show ring. Shown sparingly, she has been awarded cc's and best of breeds in good company.
Kelly was the Bitch CC winner and Puppy of Breed winner under breed specialist Andrew Burt. Exhibited two times in 2011, Kelly can still more than hold her own. She has now won best of breed two years running at the Adelaide Royal (2010 and 2011).
A very happy, easy going, sound bitch whose tail wags continuously; she really loves to move around the ring.
Kelly is coming up to five years of age. Bred only once, she is the mother of our very special Aust. CH Bullmighty SXE Bitch (Ida).
We will hopefully be breeding from Kelly in 2012.
AUSTRALIAN CHAMPION

BULLMIGHTY

NOPLCFRANGELS
Parents
GrandParents
Great GrandParents
Aust. Grand CH Kangala Ozzie Osborne

Aust. CH Kangala Yohan

Aust. CH Oldwell Laird (Imp. UK)
Aust. CH Soloshel Da Javou

Aust. CH Kangala Tailor Made

Aust

. & NZ CH Copperfield Capt Taunton Of Graecia (Imp. UK)
Aust. Grand CH

Kangala Hana Of Oldwell

Bullmighty Lavosh


Gamekeeper Entrapment




Aust. CH Forestguard Hannibal

Aust. CH Bullmighty Behold XTC

Bullmighty IndecntObsesin


Aust. CH

Soloshel Mr Bad Guy

Aust. CH Bullmighty Behold XTC