AUSTRALIAN CHAMPION BULLMIGHTY NO EZI WAY OUT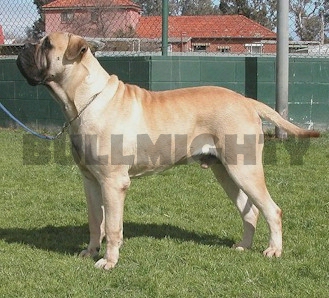 Sabbath is the son of Australian Grand Champion Kangala Ozzie Osborne and our home bred bitch Bullmighty Lavosh.
A balanced, well pigmented, sound moving dog of good size and substance. Pictured at 18 months.
Penn Hip Evaluated at 19 weeks. Top 100% out of 937 bullmastiff's evaluated in the scheme to date.
Wyburn CHD score total right 0, left 2, Grade 1. Elbows 2/2
DNA certified.
Multi class in group, class in show , RUBIG All Breeds Champ show winner, and now The South Australian Bullmastiff Of The Year point score winner 2008.
BULLMIGHTY NO EZI WAY OUT

Parents
GrandParents
Great GrandParents
Aust. Grand CH Kangala Ozzie Osborne

Aust. CH Kangala Yohan

Aust. CH Oldwell Laird (Imp. UK)
Aust. CH Soloshel Da Javou

Aust. CH Kangala Tailor Made

Aust

. & NZ CH Copperfield Capt Taunton Of Graecia (Imp. UK)
Aust. Grand CH

Kangala Hana Of Oldwell

Bullmighty Lavosh


Gamekeeper Entrapment




Aust. CH Forestguard Hannibal

Aust. CH Bullmighty Behold XTC

Bullmighty IndecntObsesin


Aust. CH

Soloshel Mr Bad Guy

Aust. CH Bullmighty Behold XTC