BULLMIGHTY MAKE ME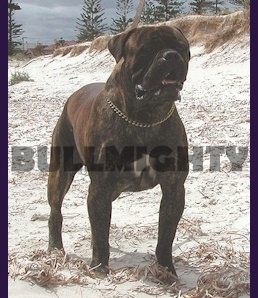 Lector is a much loved family member, he has a very easy going nature which makes him a favourite with the skin kids at our local football and netball clubs.
A well marked brindle dog who is maturing slowly, we are looking forward to see him shown later in the year.
Weighing 65 kg and measuring 27 inches at 14 months, he is already a dog with great size and substance.
Lector is DNA certified.
BULLMIGHTY MAKE ME

Parents
GrandParents
Great GrandParents
Gamekeeper Entrapment


Aust. CH Forestguard Hannibal




Bullpower Red Devil

Masbull Hanna

Aust. CH Bullmighty

Behold XTC
Aust. CH Kangala Johanno Oldwell
Bullmighty Freda O Mason
Aust. CH Nightking Final Fling

Aust. CH Kangala Johanno Oldwell

Aust. CH Kangala Yohan

Aust. CH Opalguard Ayesha

Kervilees Ivory Queen




Aust. CH Wyvenhay Captain Morgan

Aust. CH

Kervilees Lady Crystal