AUSTRALIAN CHAMPION BULLMIGHTY MAID IN XS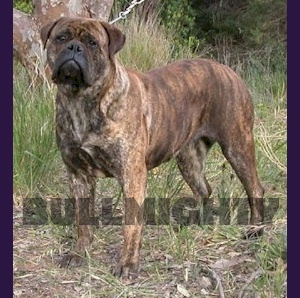 Muriel is a granddaughter of Aust. CH Bullmighty Behold XTC, Aust. CH Kangala Johanno Oldwell and Aust. CH Forestguard Hannibal. She is a well marked brindle girl who has been in the planning for a very long time.
Muriel has an easy going temperament, she is happy and outgoing. She plays as well with her Bullmastiff friends as she does yappy fluffies of all descriptions.
Muriel easily gained her Australian champion points at 14 months of age.
Elbow scored, HD scored total 17. DNA certified.
AUSTRALIAN CHAMPION BULLMIGHTY MAID IN XS

Parents
GrandParents
Great GrandParents
Gamekeeper Entrapment


Aust. CH Forestguard Hannibal




Bullpower Red Devil

Masbull Hanna

Aust. CH Bullmighty

Behold XTC
Aust. CH Kangala Johanno Oldwell
Bullmighty Freda O Mason
Aust. CH Nightking Final Fling

Aust. CH Kangala Johanno Oldwell

Aust. CH Kangala Yohan

Aust. CH Opalguard Ayesha

Kervilees Ivory Queen




Aust. CH Wyvenhay Captain Morgan

Aust. CH

Kervilees Lady Crystal