AUSTRALIAN CHAMPION BULLMIGHTY KISS THIS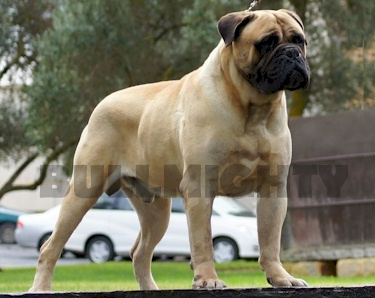 A solid, balanced dog with true Bullmastiff type, wonderful pigmentation, excellent substance, good angulation front and rear, a firm level topline and short back.
26 & 1/2 inches at the shoulder, weighing 64 kg at 2 years of age.
Rhino also has a temperament to be proud of; he is very much a gentleman.
HD scored L 10 / R 11 Elbows 0/0. DNA certified.
Sunday September the 16th 2007, Rhino won Best of Breed and Australian Bred in group under Breed specialist Dr C Girling.
Rhino is a pleasure to own and handle, carrying the best of the dogs from our kennel in his pedigree.
AUSTRALIAN CHAMPION BULLMIGHTY KISS THIS

Parents
GrandParents
Great GrandParents
Aust. CH Nightking The Last Stand


Aust. CH Kangala Johanno Oldwell



Aust. CH Kangala Yohan

Aust. CH Opalguard Ayesha

Kervilees Ivory Queen

Aust

. CH Wyvenhay Captain Morgan
Aust. CH Kervilees Lady Crystal

Aust. CH Bullmighty

Behold XTC


Aust. CH Kangala Johanno Oldwell



Aust. CH Kangala Yohan

Aust. CH Opalguard Ayesha

Bullmighty Freda O Mason




Mason Of Arapeti (Imp. NZ)

Kenston Red Magic