AUSTRALIAN CHAMPION BULLMIGHTY BEHOLD XTC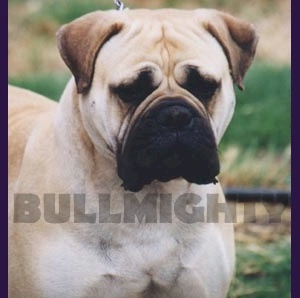 Freda has been a joy to breed and own. Wonderful size and substance, great temperament, and stunning movement.
Her show career was very successful; she was a South Australian Bullmastiff Club Puppy Of The Year, titled at twelve months old, and had multiple in show and in group wins, multi class in specialty show, multi challenge certificates and Specialty and Runner Up Best In Specialty Show.
Critiqued as having the most "stunning head" by one of her specialty judges, she has certainly left her mark on her progeny.
AUSTRALIAN CHAMPION BULLMIGHTY BEHOLD XTC

Parents
GrandParents
Great GrandParents
Aust. CH Kangala Johanno Oldwell

Aust. CH Kangala Yohan

Aust. CH Oldwell Laird (Imp. UK)
Aust. CH Soloshel Da Javou

Aust. CH

Opalguard Ayesha

Aust

. CH Morvern Eachan (Imp. UK)
Aust. CH Bobby Dazzler Of Graecia (Imp. UK)
Bullmighty Freda O Mason


Mason Of Arapeti (Imp. NZ)




Chalimbana Chabrias (Imp. Zambia)

Duchess Of Arapeti

Kenston Red Magic




Aust. CH Bullpower Jaguar

Kenston Range Glory