AUSTRALIAN CHAMPION BULLMIGHTY BACK TO BLACK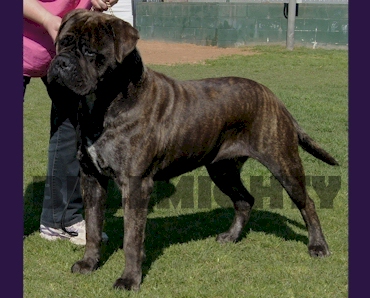 Esther; Titled as a junior, she is a specialty Res CC winner and Royal and Multi Class In Group winner. Her willingness to perform in the show ring comes from a happy, confident temperament that she has clearly passed on to her puppies.
Esther is a well ribbed, substantial girl with good tail set and correct croup. At the top of the standard for bitches, she still has a feminine head piece with dark eyes and correct width and depth. Esther definitely does the job she was bred for! As part of our breed display team it is her job to "knock down and pin the poacher" as the finale of the display.

AUST. CH BULLMIGHTY BACK TO BLACK

Parents
GrandParents
Great GrandParents
Bullmaster Black Prince


Bullmaster Black Knight




Soloshel Midnite Pirate

Aust. CH Bullmaster Sweet Melody

Aust. Grand CH

Nightpower Special Rquest
Aust. CH Bullmaster MdniteSpecial
Aust. CH Grasslock Memory Lane
Bullmighty Ugly Betty


Gamekeeper Entrapment



Aust. CH Forestguard Hannibal

Aust. CH Bullmighty Behold XTC

Aust. CH Nightking High Xpectations


Aust. CH Bullmighty INXS

Kennilcrest Rafki