AUSTRALIAN CHAMPION AKYLAH RETURN TO GENRE (Imp. NZ)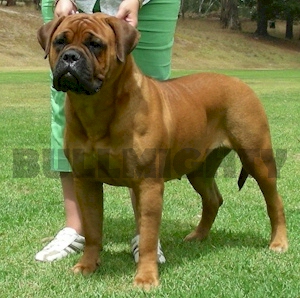 Welcome home Ella!!
Well that's what it seems, with such a familiar type through three generations of bitches in this girl's pedigree. We are very happy to have Ella join us in OZ at Bullmighty Kennels.
Ella has attitude to burn; thanks to Allyson for handling, housing, and loving her.
Ella won reserve cc and minor of breed at the Colomeke champ show on the 19th of May 07.
Ella won best puppy of breed, reserve challenge and runner up best of breed at the Adelaide Royal Sept 07.
Winner of Best Red at the Bullmastiff Club of SA Inc. Sept 07.
After a brief break to get Ella fitter and happier SHE'S BACK! Best of breed at Oakbank, Adelaide Hills KC Sat and Sun; Ella is now on her way to her title.
Ella is the Bullmastiff Puppy of the year for South Australia (DOL pointscore & BMCSA pointscore) for 2007.
AKYLAH RETURN TO GENRE (Imp. NZ)

Parents
GrandParents
Great GrandParents
NZ CH

Bullmighty Haplo (Imp. Aust.), CGC




Bullmighty Barnaby



Aust. CH Kangala Johanno Oldwell
Bullmighty Freda O Mason

Aust. CH Bullmighty Flamn Groovy

Aust

. CH

Bultusker Guardiano

Aust. CH

Bultusker Bella Donna

NZ CH Akylah Lallante


Soloshel Midnite Thunder (Imp. Aust.)



Aust. CH Soloshel Mr Bad Guy

Soloshel Wild N Wicked

Bullmighty Hajaana (Imp. Aust.)

, CGC Silver


Bullmighty Barnaby

Aust. CH Bullmighty Flamn Groovy