MULTI BIS, BISS AUSTRALIAN CHAMPION VICLOY GAME OVER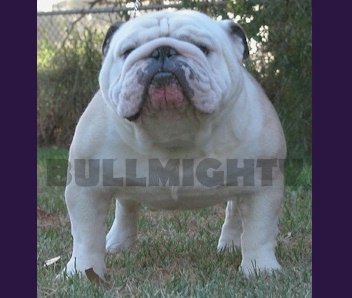 Oliver was a Multi Best In Show winner at both All Breeds Champion shows and Specialty Championship show level.
Winning in great company, he was retired after being shown lightly. He preferred to spend his time at home with his dad, Grand Champion Bullmighty Splasha Trubl.
AUSTRALIAN CHAMPION VICLOY GAME OVER

Parents
GrandParents
Great GrandParents
Aust. Grand CH Bullmighty Splasha Trubl

Aust. CH Bulldogdom Lil Tusker

Aust. CH Craigrossie Mr Humphrey
Bullyack Regal Babe
Aust. CH Bratrice Splasha Dolla
Aust. CH Elroston Mr Terrific
Aust. CH Bulldawg Splash Of Ice
Vicloy Material Girl

Aust. CH Truwinks Mr Bo Dayscious

Aust. CH Pudtilly The Bruiser
Bimbashi Lady Elleran
Aust. CH Tuillo Artic Crystal

Aust. CH Elroston Mr Sandman
Tuillo Mrs Marple