AUSTRALIAN CHAMPION VICLOY DEE NAMEE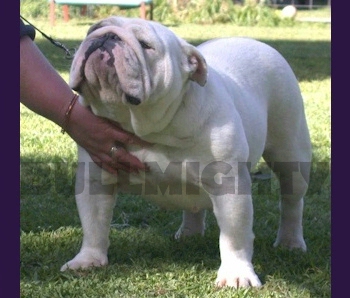 Dee was the best of the best. She was titled before junior and won cc bitch and runner up in show from puppy class under specialist judge Howard Randall (Elroston Kennels) just to mention one of her outstanding achievements.

Her temperament was faultless and she was one of those that shone just that little brighter. Dee; a best friend and irreplaceable Bulldog.
AUSTRALIAN CHAMPION VICLOY DEE NAMEE

Parents
GrandParents
Great GrandParents
Aust. Grand CH Bullmighty Splasha Trubl

Aust. CH Bulldogdom Lil Tusker

Aust. CH Craigrossie Mr Humphrey
Bullyack Regal Babe
Aust. CH Bratrice Splasha Dolla
Aust. CH Elroston Mr Terrific
Aust. CH Bulldawg Splash Of Ice
Vicloy Material Girl

Aust. CH Truwinks Mr Bo Dayscious

Aust. CH Pudtilly The Bruiser
Bimbashi Lady Elleran
Aust. CH Tuillo Artic Crystal

Aust. CH Elroston Mr Sandman
Tuillo Mrs Marple