AUSTRALIAN CHAMPION EMBOLDEN DA LAST LAUGH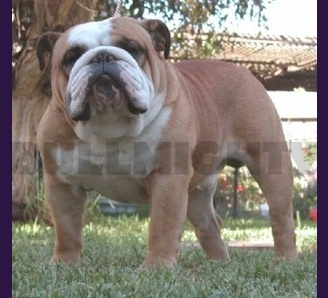 Fred is a lovely compact, cobby, standard weight dog. He is the true "pear shape," well let down between the forelegs with correct barrel rib, great tuck / cut up through the loin with light hindquarters.
Sound moving with a true Bulldog roll he is a pleasure to handle.
Fred, though rarely shown due to constraints on my time, places well at specialty and championship show level. At the last British Bulldog of South Australia Championship Specialty show he placed reserve cc under breed specialist Wes Stacey as a junior.
Frederick is a wonderful example of the breed and much loved member of our family here at Bullmighty Kennels.
Preliminary xrays for patella and partial spine.
Current examination heart clear certificate December 2007. DNA certified; Hip xrayed and scored.
AUSTRALIAN CHAMPION EMBOLDEN DA LAST LAUGH

Parents
GrandParents
Great GrandParents
Aust. Grand CH Bullmighty Splasha Trubl

Aust. CH Bulldogdom Lil Tusker

Aust. CH Craigrossie Mr Humphrey
Bullyack Regal Babe
Aust. CH Bratrice Splasha Dolla
Aust. CH Elroston Mr Terrific
Aust. CH Bulldawg Splash Of Ice

Aust. CH Craigrossie Hermione



Aust. CH Lyndhaze Knave Of Hearts


Aust. CH Chajen Crusader

Warrenglen Star Light

Aust. CH Craigrossie Toy Box


Aust. CH

Craigrossie Blue Chip

Blakosh Art Nouveau