MULTI BIS, BISS AUSTRALIAN GRAND CHAMPION BULLMIGHTY SPLASHA TRUBL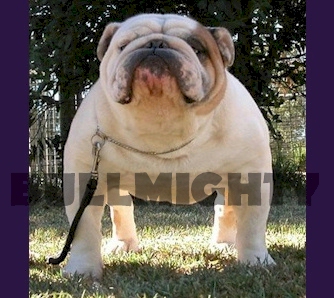 Boss is a multi Best in Show winner and a specialty Best In Show Winner. His Australian Championship title gained with Best In Groups, he has dozens of BIG awards including a Royal Best In Group.
He has produced best in show all breeds and specialty cc and runner up to best in show winners, multi class in group, and in show winners from his progeny.
From baby puppy, where on his first weekend exhibited he went Baby In Show, he has been a consistent winner at Breed, Group and In show level and is a true specialists Bulldog, winning his first Best In Group as a minor puppy.
His record is unequalled in South Australia. Campaigned for a limited number of shows, and gaining most of his points when there were no such thing as points for Best Of Breed.
Shown in 2004 five times for four Best In Group, two Runner Up Best In Shows, and two Best In Shows, he is now retired from the show ring.
Boss is hip, patella, and spine x-rayed. AVA scored. DNA certified.
AUSTRALIAN GRAND CHAMPION BULLMIGHTY SPLASHA TRUBL

Parents
GrandParents
Great GrandParents
Aust. CH Bulldogdom Lil Tusker

Aust. CH Craigrossie Mr Humphrey

Aust. CH Craigrossie Super Man
Lyden Shes Gotstyle
Bullyack Regal Babe
Aust. CH Craigrossie Orac
Aust. CH Craigrossie China Doll
Aust. CH Bratrice Splasha Dolla

Aust. CH Elroston Mr Terrific

Aust. CH Elroston Jungle Boy
Aust. CH Nonparell Miss Emmylou
Aust. CH Bulldawg Splash Of Ice

Aust. CH Wybong Grand Master
Aust. CH Bulldawg Splash Ofmagic