BULLMIGHTY NUFF SAID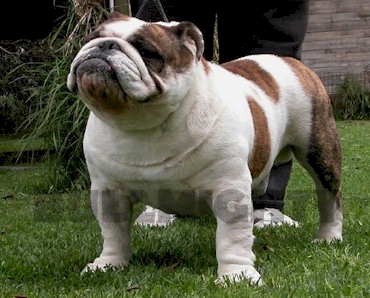 Pictured at 15 months, Hoss is a great example of the bulldog breed, with type, size and substance.
Hoss is the culmination of the best dogs over a number of generations from our combined kennels at Bullmighty and Bulldogdom; he has certainly been in the planning for a very long time.
Preliminary spine HD Patella x-rayed , trachea sized, DNA certified .
BULLMIGHTY NUFF SAID

Parents
GrandParents
Great GrandParents
Aust. Grand CH Bullmighty Splasha Trubl

Aust. CH Bulldogdom Lil Tusker

Aust. CH Craigrossie Mr Humphrey
Bullyack Regal Babe
Aust. CH Bratrice Splasha Dolla
Aust. CH Elroston Mr Terrific
Aust. CH Bulldawg Splash Of Ice
Bullmighty Myth Bustr


Bulldogdom Just Cooper



Aust. CH Bulldogdom Scoobe Dum

Bulldogdom Amazing Grace

Dewbull CutAboveTheRest



NZ CH Hiising History Repeated (Imp. NZ)
Dewbull Proud Image