AUSTRALIAN CHAMPION BULLMIGHTY DID U MYTH ME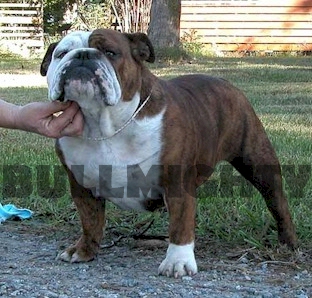 Brigitte has a true tacked on front, which she holds on the move, great brisket leading into a barrel rib, and having a good roach and tail.
A lovely upfaced girl with great lay back and large skull.
She definitely has the attributes for breed standard requirements of "thickset dog, rather low in stature, but broad, powerful and compact."
Pictured at 13 months after winning Best of breed at her last two shows and puppy in group, she titled easily at only thirteen months. Congratulations to her owner/handler Linda Dempsey, and her co-owners P & C Sutton.

AUSTRALIAN CHAMPION BULLMIGHTY DID U MYTH ME

Parents
GrandParents
Great GrandParents

Bulldogdom Just Cooper




Aust. CH Bulldogdom Scoobe Dum

Aust. CH Craigrossie Skoobie Do
Allipundi Lady Sophia

Bulldogdom Amazing Grace

Aust

. CH Bulldogdom Lil Tusker
Schondi Shesa Tuffy
Dewbull CutAboveTheRest

NZ CH Hiising History Repeated (Imp. NZ)

Lynmans Living Legend (UK)
Barudesha Sierra At Hiising (UK)
Dewbull Proud Image

Aust. Grand CH Dewbull The Legend
Bulibrook Evangeline