AUSTRALIAN CHAMPION BULLDOGDOM UR SO VAIN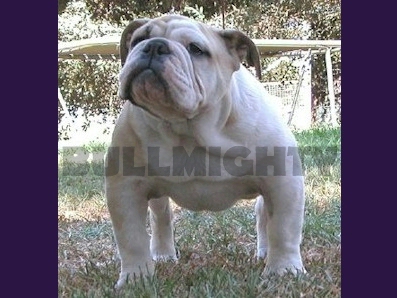 Mavis is a daughter of Ch Bullmighty True Lies and granddaughter of Grand Ch Bullmighty Splasha Trubl , she is a lovely breed typical bitch.
Mavis has had her preliminary spine x-rays, trachea checked, normal as at 20th Dec 2007

Mavis has been campaigned by Ms L Dempsey (thank you Linda ), she has some impressive wins to her credit, with multi best of breed wins as minor puppy, multi class in group winner, and now Mavis is a specialty class in show winner.
Mavis wins Minor in Show at the BBC of Vic show, June 08, under breed specialist Tony Darmanin (Sutus Bulldogs, UK).
Critique as follows:
"Lovely standard fawn and white bitch puppy with super well broken up skull having pleasing upswept jaw, well cushioned foreface, good nostrils, dark eye, fine rosed ears, good front with tacked on shoulders, good brisket, good straight bone to tight feet, nice arch of neck, well ribbed, pear shaped body with good rear angulation. Moved well, best puppy on the day (baby, minor and puppy classes), wished she were mine."

Thank you to all the judges who recognise the quality this lovely young bitch has.
Mavis is co-owned with P & C Sutton. We look forward to watching her grow.
BULLDOGDOM UR SO VAIN

Parents
GrandParents
Great GrandParents
Aust. CH Bullmighty True Lies

Aust. Bulldogdom Carbon Copy

Aust. CH Craigrossie Too Socks
Allipundi Lady Sophia
Bullmighty Playn Possum
Aust. CH Elroston Just A Gamble
Bullmighty Dolla Deal
Embolden High N Mighty

Aust. Grand CH Bullmighty Splasha Trubl

Aust. CH Bulldogdom Lil Tusker
Aust. CH Bratrice Splasha Dolla

Aust. CH Craigrossie Hermione



Aust. CH Lyndhaze Knave Of Hearts
Aust. CH Craigrossie Toy Box